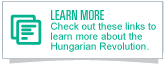 OUR STORY
For many Hungarians who witnessed 1956, the Revolution had a significant and lasting influence on their lives. Second generation Hungarians, hearing their family's stories of heroism, have also been deeply inspired.

The Hungarian American Coalition and Lauer Learning began to collect these inspiring stories from 1956 survivors through this oral history website for the special 50th anniversary year. The publication of our first two books for the 50th anniversary, was a gratifying experience for us all, but our work continues. Going forward, it is our intention to compile as many personal accounts as possible and to feature these stories on the website.

Our goal is to help complete the picture of this amazing modern-day David vs. Goliath struggle by passing on not only the stories but the very spirit of the Revolution of 1956 to future generations. This will ensure that the heroes of 1956 and the suffering of a nation will never be forgotten.

The Hungarian American Coalition was founded in 1991 as an educational and cultural non-profit 501 (c)3 organization.

Its Office of Information in Washington, DC serves over 20,000 organizational and individual members across the United States. Its mission is to promote public understanding and awareness of Hungarian American issues.

Its goals include:

To mobilize and coordinate the talents and resources of its members;

To foster interest and appreciation in the United States for the history, education and culture of Hungary;

To encourage cultural and educational interaction between the people of the United States and Hungary;

To protect and preserve the human and minority rights and cultural heritage of Hungarians throughout the world; and

To support democratic institutions and economic development in Hungary.

| | |
| --- | --- |
| | |
Lauer Learning creates innovative, educational multimedia products to teach children about foreign languages, cultures and historic events.

We must make learning engaging and memorable so that today's technologically and media savvy kids yearn to learn... at all levels and at all ages. After all, we can't teach them if we can't reach them.

The first wave of Hungarian products will include:
"FF56!" an immersive, historically-accurate, role-playing computer game for young teens to experience the Hungarian Revolution of 1956.

"Kis Majom," Hungarian language learning packets consisting of fun and imaginative DVDs, books and flashcards,to help parents raise their children bilingually.